Dress shopping is probably the most fun you'll have when planning your wedding. And rest assured, there is a dress for everybody and every body out there! Most brides know what they like and what looks good on them and if they don't, a good bridal consultant will be able to tell you.
Choosing a wedding dress that works for your photos is important and makes your wedding day that much easier. After all, chances are you'll be wearing it for at least eight hours. But how do you choose a dress that will look good on you in photos? Here are five tips that we suggest you take into consideration.
Make a list of photos that you want. It doesn't have to be the final list, but going shopping with a list of photos that you know you'll want will help you choose the right dress. The dress you choose needs to be photogenic on you from any angle. Most wedding photographers, us included, will take candid shots of you when you don't notice. We do our very best to capture you in the most flattering way so a dress that photographs well on you makes our job that much more fun. 
Take the ceremony venue into consideration. We'll toot our horn a bit here: we can make almost anything work! That said a strapless mini-dress may look a bit off in a grand cathedral. A ball gown with a 15-foot train is going to be difficult to manage in a forest. You get the idea. Some brides choose the venue, then the dress. Others do it the other way around. Whatever your order of operations, continuity is key to having that captured image reflect who you are on your wedding day without the fussof figuring out how to maneuver in your dress. 
Take the photo locations into consideration. That mini-dress we mentioned could make it a little difficult to climb up on a rock outside at the Arboretum (if you want to keep things PG). A mermaid style dress is only glamourous if you can actually walk in it, let alone climb some stairs or sit down. Strapless dresses have been all the rage the past several years but raising your arms could be more…er…entertaining than you anticipated if the dress is heavy. You want to be able to move all your body parts freely, especially if you want photos that are out of the ordinary (like that classic photo where everyone jumps up in the air). Which brings us to our next tip…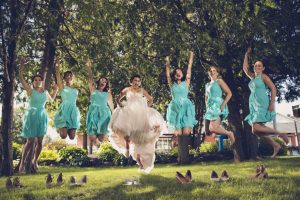 Your dress fits you properly from every angle. Now, unless you have the exact same body as the model in the magazine, the wedding dress will fit you differently. It's that simple. We realize trying on sample dresses will not give you the perfect fit. Trying on a size 8 dress when you're a size 12 is going to look a little bit wonky but the bridal consultant should have enough experience to get it onto your body properly to give you a good idea what it will look like when you actually have it on in the right size. When you have it on, ask one of your entourage to take photos from the front, the back, the side, from an elevated angle, etc. You should love every angle. If you don't, you could be setting yourself up for disappointment.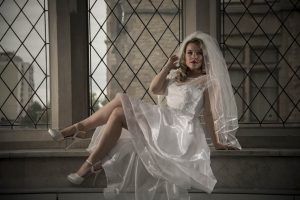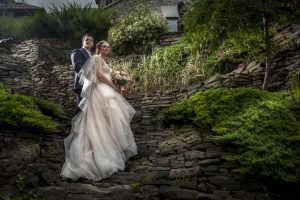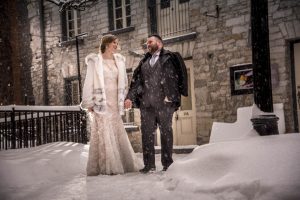 Wear the right fabric. If you're getting married outside in the winter, I'm going to suggest that a dress made of light, breezy chiffon with teeny straps and a bare back might not yield you the best photos because, well, you'll be freezing. By the same token, wearing a heavy satin ball gown with fifteen pounds of Swarovski crystal, a high neckline and long sleeves in mid-July for an outdoor wedding may make you melt,and not in the romantic sense. Keep the season of your wedding in mindand choose a dress to fit that season for the best photo results. And on the topic of melting, you may also want to consider something fire retardant if you want to do a photo like this!