So as most great romances start now a days Slaven and I met online over 6 years ago. It didn't take us long to figure out that we both have quite the travel bug, love being outdoors (hiking/camping etc), and that we both had the same ideas and goals for what we wanted our futures to look like. We're such different people, but we've been able to grow and learn from each other because of this, and I truly believe that this is what makes us work!
We got engaged on September 21st, 2018 in our most favorite place, Hawaii. The biggest question to me after we got engaged was "were you surprised?" After being together for over 5 years, and having discussed the idea of a wedding on numerous occasions my initial answer was no, but the most honest answer is yes. In the moment that it happened, down on Waikiki beach that Friday night after watching a fireworks show, yes I was surprised and shocked and overjoyed. I wouldn't and couldn't have dreamed it to be any better!
We started planning our wedding right away and actually chose to get married exactly one year from the engagement, on September 21st, 2019. As soon as we got home we immediately started calling vendors and venues. We both looked at each other and knew exactly who we NEEDED as our photographer. I will admit we were pretty hung up on Steve, Mitch's associate, and we didn't want anyone else. He had done such an amazing job for my sister's wedding 2 years before and was just so much fun, we weren't going to settle for anyone else.
To our dismay Steve was not available, but Mitch let us know that he was still available on our day, and that he was "pretty decent" at his job. So after a very entertaining and comical phone call we booked right away! The comfort I felt right away with Mitch made me know that working with him was going to be amazing.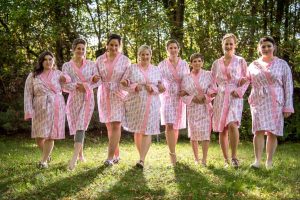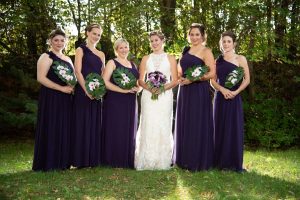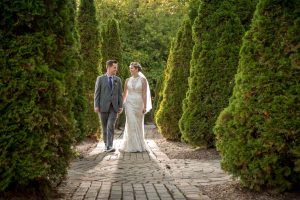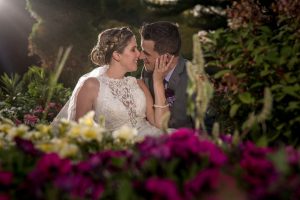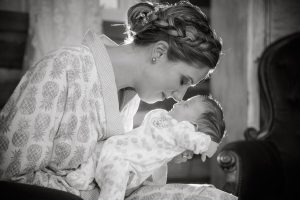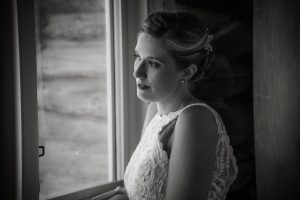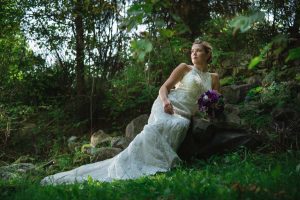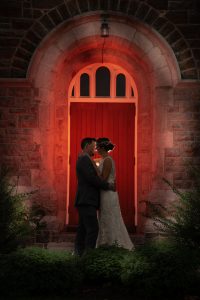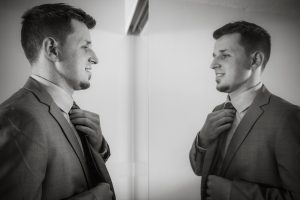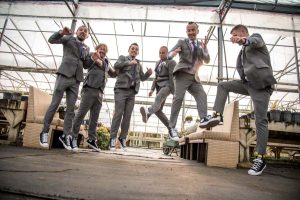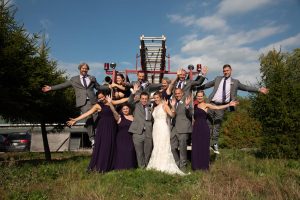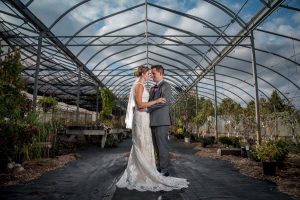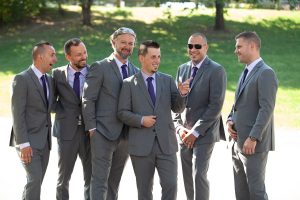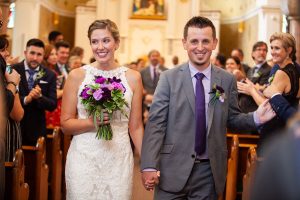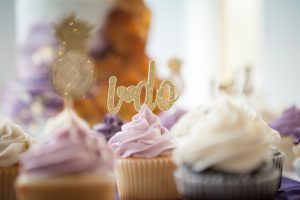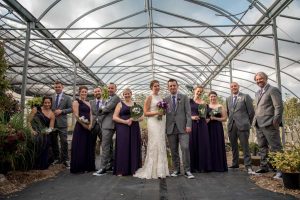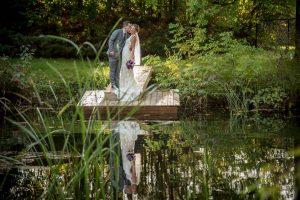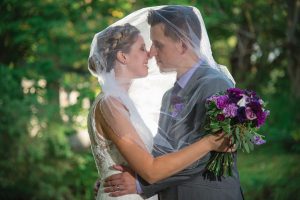 As the months went on I'll admit we had some ups and downs with the panning process, but eventually it all came together.
We said "I do" on a fantastically sunny and hot September day surrounded by all our friends and family. We had our ceremony at the stunning Holy Cross Church in Kemptville. Our venue was the New Rideau Restaurant. We picked it for its ample and beautiful outdoor and indoor space.
My favorite colour is purple, so obviously my theme needed to include this. I decided on royal purple and gold as my main colours. I may have a mild obsession with pineapple décor, this absolutely found its' way into my theme. With this in mind I feel like we were able to create a fun and sophisticated tropical feel to our day, without taking it too far.
I think we can both agree that one of the most special moments was seeing each other for the first time walking down the aisle. a close second would be a tie between listening to all the wonderful people who did speeches for us, playing Pictionary as our kiss game, and getting to party and dance the night away with everyone. I know I can say a highlight for me was when I was allowed to sing with Slaven's band once the party got started. He never lets me sing! This was huge! Hahaha. I also need to mention and thank my aunt and uncle for transforming into Sonny and Cher to sing us an unforgettable rendition of "I got you babe". This truly made the night special for us! Our wedding was us. Albeit I think it represented Slaven and I the best that it could have.
I want to take a moment to thank and promote everyone that we worked with. Vendor and venue wise everything went off without any real hiccups and we are so thankful for that! As mentioned before the venue was great and the food was even better! Our guests are still raving about the quality, taste and amount even 2 months later, so that's telling you something right there! My bridesmaids and I had our hair done by Charity of Curls and More Hairstyling. She is so much fun to work with, and her up-dos are fantastic!  My mother never wears makeup, and even mascara is often times too much for her, but how Doreen transformed my mom for the day was incredible!
After visiting quite a few bridal boutiques I was able to find my dress at Renewed with Love Bridal. The ladies that work there couldn't have been more helpful, and easy to work with. I was in there on a few occasions as their inventory changes constantly, and they were just fantastic. Totally hassle free, accommodating and lovely! I felt a bit pressured in some other boutiques so I would highly recommend taking the trip to Carleton Place.
Admittedly, I never knew that Metro would offer floral arrangements, especially for a wedding. I will tell you that they did not disappoint. Absolutely everything was exactly how I wanted it. The bridesmaid bouquets included a tropical feel with a Monstera leaf. My bridal bouquet was full and gorgeous and perfectly constructed. I would highly recommend working with Tera, the quality and the price won't be beat!
Our videographer Shauna was fantastic. I think her and Mitch got along awesomely and worked well together, and I couldn't be happier about that. She was great at keeping me calm, and really fit into our day well. I couldn't see myself working with anyone else.
Now Mitch. Honestly we can't say enough about working with him. He also was able to keep us calm and collected. Honestly working with him was such a highlight to our day. His imagination and talent are incredible, and again why we didn't want to work with any other company. I can honestly say I've never felt as beautiful as I did on my wedding day. Mitch and his team captured this in an incredible way. We're so happy with his finished product, and have received so many compliments. We now have amazing photos to look back on fondly, and this was extremely important to us. Mitch absolutely delivered! Thank you so much from the bottom of our hearts.