Fun Gift Ideas for Your Co-ed Wedding Shower or Party
Finding the perfect co-ed wedding shower or party gifts to ask for can be tricky. Often, brides-to-be are thrown bridal showers. While the gifts she receives are for both the bride and the groom, some of them might be more feminine. Now, co-ed parties are becoming more popular. This means that the gifts that you put on your registry shouldn't be solely for the bride. They should be for both future spouses to enjoy. If you're having a co-ed wedding shower or party, you might be looking for fun gift ideas for your co-ed wedding shower or party. Consider putting some of these great gift ideas on your registry.
1. Personalized Vegan Leather Jewelry Tray
The Knot: This jewelry tray is the perfect place to store your rings and any other small belongings.
You can keep it on your nightstand for you and your future spouse to put tiny accessories in at the end of the day. It's available in white, black, and fuchsia and two different sizes. It can be monogrammed with your initials too. It's both beautiful and functional.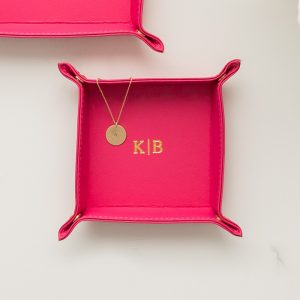 Image via The Knot
2. Perfect Pair Heart Wine Glass
Shutterfly: These wine glasses are perfectly customizable.
You might choose to use your initials, names, or your new last name. The possibilities are endless. They are a great way to remember your special day. They're gorgeously etched and are even dishwasher-safe. Keep in mind that these wine glasses are sold individually, so be sure to ask for 4 or however many you'd like to have.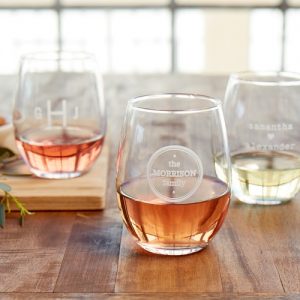 Image via Shutterfly
3.   Personalized BBQ Grill Tool Set
Groomsmen Gift Ideas: This BBQ Grill Tool Set from Groomsmen Gift Ideas can be customized with your last name.
It includes everything you and your new spouse will need to enjoy a grilled meal on a summer evening. This makes it a great gift for both the bride and the groom. The gift set also includes a wood box for storage.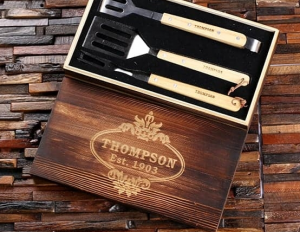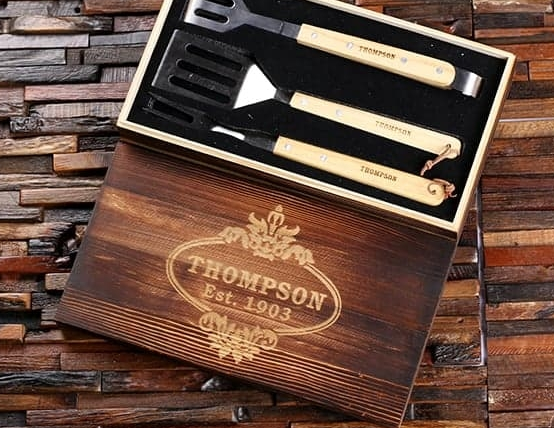 Image via Groomsmen Gift Ideas
4.   Modern Wedding Design Cutting Board
Cutting Board: This cutting board makes a perfect keepsake. It's a nice alternative to a standard cutting board because it can be personalized.
You can choose to have your names and wedding date engraved. In addition to this cutting board, the website has a variety of different designs and wood types to choose from.
Image via Cutting Board
5.   Monogram Wood Coasters for Drinks
Amazon: These coasters come in a variety of different styles and shapes. You can choose the font and design that you like the best.
They're a great keepsake and are very functional. They're available in sets of 1, 2, 4, 6, 8, 12, and 16 so you can choose how many you think you will need. They are made from bamboo, which is very durable and will last for years to come.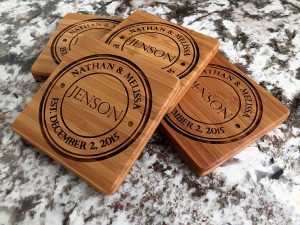 Image via Amazon
6.   Stackable Espresso Coffee Tea Set
Wayfair: This set makes a perfect gift. Who doesn't love coffee or tea?
You and your new spouse can both enjoy a nice warm beverage on a chilly day—or any day. You can even have guests over for a cup of tea or coffee. The set is both dishwasher-safe and microwave-safe. The set includes four cups, four saucers, and a stacking stand for storage.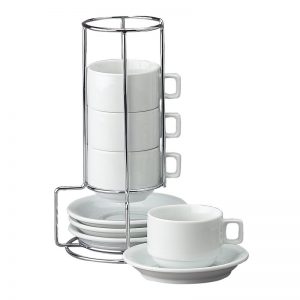 Image via Wayfair
7.   Hannah Chunky Knit Throw
Horchow: Want to keep cozying up with your new husband or wife? A high-quality throw blanket is the perfect way to do that.
The Hannah Chunky Knit Throw is made from a comfortable blend of wool and acrylic. It's available in six gorgeous colors so you can select the color that matches your décor or your style. It is 50 inches by 60 inches, so it's just the right size for sharing.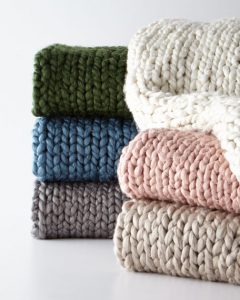 Image via Horchow
8.   Acrylic Last Name Wedding Sign
Etsy: A last name wedding sign is a wonderful keepsake. You might even want to use it at your wedding.
Then, you can hang it up in your home. It can be personalized with your last name, first names, and wedding date. With this option, you can add on a wooden frame or leave the glass on its own. There are a variety of other styles available on Etsy as well, so you can find the perfect one for your taste.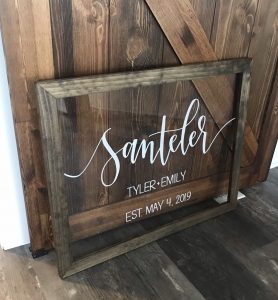 Image via Etsy
9.   Personalized Wine Box Gift Set
Etsy: This wine set includes a foil cutter, decanting pourer, stopper and corkscrew. The corkscrew has a fold out knife, bottle opener and boot lever.
All of its pieces are stored nicely in a personalized wooden box. You can choose the color of the wooden box. There are five different designs to choose from for the top of the box too. Wine is not included, but the gift-giver could easily add a bottle.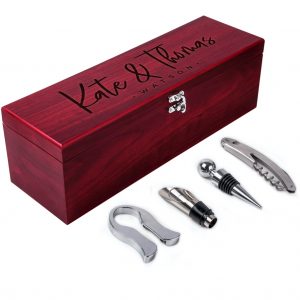 Image via Etsy
10. Martha Stewart's Newlywed Kitchen: Recipes for Weeknight Dinners and Easy, Casual Gatherings
Barnes & Noble: If you want to start off your marriage by cooking meals together, a newlywed cookbook is a great choice. There are lots of options available, but this one makes an especially useful gift.
You could ask for a variety of cookbooks or a cookbook and a few cookware items. Martha Stewart's Newlywed Kitchen includes dinner, brunch, and party recipes that are perfect for newlyweds to try out. It's a good way for couples to learn how to work together. Plus you'll sit down and enjoy a meal together.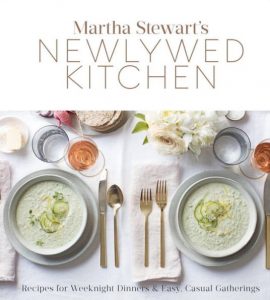 Image via Barnes & Noble