This is the day you've waited for and the day your father has hoped for you. Okay, maybe your father is dreading it…just a little. After all, you are his little girl! One of the most common questions we hear from brides is, "What song should I dance to with my father?" The answer is always, "It depends."
Your relationship with your father is unique and most brides want to underscore that uniqueness with the perfect song. Finding the best father/daughter song can be tough especially if you want a song that will give you both the deep meaning you will love, appreciate and remember forever.
In today's weddings, the role of the father of the bride can be fulfilled in any number of non-traditional ways. It may be the bride's brother that stands in for a father who has passed or is otherwise absent. It can also be an uncle, a grandfather, a friend, even your Mom!
After deciding who you will dance with, you need to decide what kind of dance you want. Many brides still do the traditional waltz which is an opportunity for some pretty fantastic photos that capture that unique relationship I mentioned earlier. There is, however, an increasing trend to mix it up, especially when the choice of dance partner is non-traditional! I've seen Irish jigs, choreographed numbers with all parents, salsa dances and everything in between. Again, there are some great photo opportunities to be found when dances venture outside the usual.
The Best Father and Daughter Wedding Songs
Once you decide the kind of dance you want, you're ready to decide on a song. There are literally millions songs to choose from so we're going to help you start to narrow it down. Here's a list of songs that we like, along with the sentiment it can evoke:
1. Heartland – "I Loved Her First"
The title says it all! Your Dad was the first man to love you and you'll always be his little girl. The message of this new country song is actually for your new husband, reminding him that your Dad was there from your first breath. Note: We were not crying. There was something in our eyes!
2. Michael Buble – "Daddy's Little Girl"
How precious are you to your Dad? More than anything on earth! A great old Hollywood style tune for a traditional waltz to let your Dad reminisce about your growing up, this one is sure to elicit some fun memories.
3. Beyonce – "Daddy"
A modern R&B song that's a bride's walk down memory lane with her Dad. She wants to marry someone just like him. The power vocals are sure to elicit some tears so wear waterproof mascara!
4. Nancy Sinatra – "It's For My Dad"
Ms. Sinatra says it right up front: this is a song for her Dad and nobody else. He was always there for you and he's your best friend. This song has some very 70s folk vibes with a classic acoustic sound that's a bit upbeat. We like this one for outdoor weddings for some reason.
5. The Temptations – "My Girl"
This Motown classic just gets better with age! This song reminds the bride that she's Daddy's girl and she lights up his world in every way. This is definitely an upbeat song but you can still pull off a waltz with this one as well as a choreographed number.
6. Paul Simon – "Father and Daughter"
No father will ever love a daughter more and your Dad will always be your beacon, no matter what life may bring. This is classic Paul Simon fare: soft lyrics, a reassuring and socially conscious voice with an acoustic feel. We're picturing a barn wedding for this one.
7. Bob Marley – "Three Little Birds"
For a Reggae feel, there's no one who does it better than Mr. Marley! A song that reassures you life is going to be alright! This has beach wedding written all over it!
8. Rascal Flatts – "My Wish"
Another new country song about your Dad's hope that you never forget where you came from and to remind you that he'll always be there. This is also a great song for a mother/brother/grandfather/uncle/friend dance!
We hope these ideas help you get started in choosing the perfect father and daughter song. And when all else fails, there's always Butterfly Kisses! The possibilities are endless. What are you dancing to? Tell us in the comments below!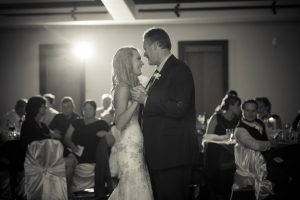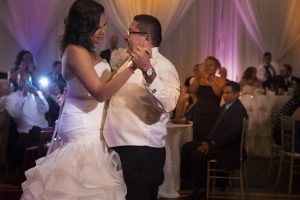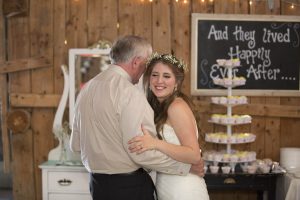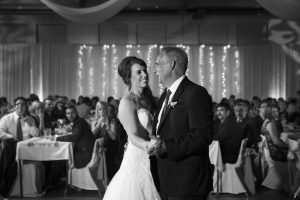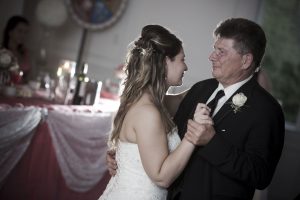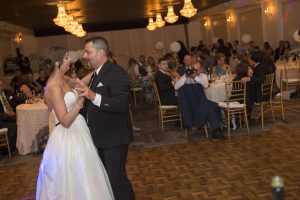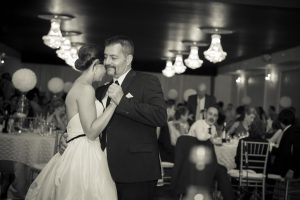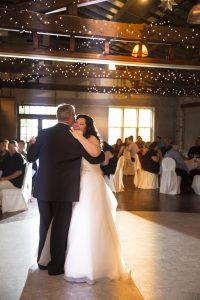 What are you dancing too? Tell us in the comments below!